Barbara Shields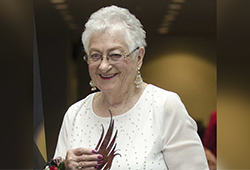 Barbara Shields knew, fresh out of high school in 1947, that she wanted to earn a university degree. Her plan? Work for a little while and then go to college. But sometimes people find that perfect workplace fit, even on their first go-round. So it was for Shields at the tender age of 17 when she started working as a long-distance operator for Pacific Northwest Bell.
Even with a successful and well-loved career, however, Shields never let her desire to earn a college degree sputter. And in 1992, at the age of 62, she proudly walked across the Eastern Washington University commencement stage to receive her bachelor's degree—teaching us all a little something about never letting go of our dreams.
Now retired, Shields remains active in a number of local nonprofit and charitable organizations. Her commitment to give back also extends to helping generations of EWU students succeed and pursue meaningful careers.
"EWU Foundation was in my will," Shields says, "but when my broker suggested a charitable gift annuity that would pay a substantial amount every year, I decided to endow a scholarship while I'm still alive to see students benefit from it."
Shields established two separate endowments. One funds two undergraduate student scholarships each year; the other two graduate student scholarships each year.
"I got motivated to help others because there's so much need and there's so many wonderful young people who just need a hand up," says Shields. Read more about her impact.