Rebecca P. Cornwall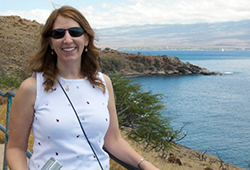 Rebecca P. Cornwall earned her B.A. in Applied Psychology with minors in both Dance and Communications in 1989 from Eastern Washington University. In her senior year she used an internship at the Excelsior Residential Treatment Center in Spokane, Washington to develop dance/movement programs for both the male and female adolescent residents as well as the adult staff members. She used her EWU education and experience as a foundation for her graduate-level studies in Dance/movement Therapy at the University of California at Los Angeles (UCLA) where she earned an M.A. in 1992. A registered Dance/movement Therapy and National Certified Counselor, Rebecca's professional career has focused on children's mental health issues.
Her clear academic goals helped her become the recipient of several scholarships throughout her undergraduate years at EWU. She was awarded the Dale Wilson Scholarship for her sophomore, junior and senior years, a Bank of America Scholarship for her junior year, a Psi Chi Scholarship for both her junior and senior years, the Tawanka Alumnae Scholarship for her senior year and received the Mary Shields Wilson Medallion Award upon graduation. Her career vision was supported by several EWU staff members including her advisor, Dick Sampson, and her work-study employer, Kathy Fleming, both of whom were sources of unending support and helped her create many opportunities to pursue interests in Dance/movement Therapy.
Rebecca has made a commitment to leave a lasting legacy beyond her lifetime by including a charitable bequest to the Eastern Washington University Foundation in her will to establish the Rebecca P. Cornwall Garcia Scholarship Fund for students pursuing degrees in Applied Psychology and to provide money to the EWU Libraries acquisition fund to ensure the purchase of up-to-date resources related to the arts in psychotherapy, specifically Dance/movement Therapy.
"My gift to the EWU Foundation is designed as a way to say 'thank you' for the opportunities I had at EWU and to ensure that future EWU students have similar opportunities. And, to say 'thank you' to those who had the vision to create the scholarships and honors I received while at EWU. It is my hope that future students have the financial support to help them meet both their short and long-term educational goals."